I read a lot of trade press these days, just trying to keep apprised of what's happening in the book business and aware of the important issues affecting writers and readers.
My top news item pick for the past week is a brief on one of the most innovative and promising developments I've seen: pop-up newsstands. It's like a grown-up version of the neighborhood lemonade stand we all had as kids. The stars in our eyes back then were powered by mom and dad's generous support and our own entrepreneurial fantasies.
But this new development could actually have profitable legs for all involved (and serve a need), as long as participants stay satisfied with 'small.' As in small space, small number of offerings (but well-chosen for target customers), small time commitment in leases, small, shared profits. Awesome.
from shelf awareness.com pro, July 3, 2013:
Brooklyn Gets Pop-Up Subway Bookshop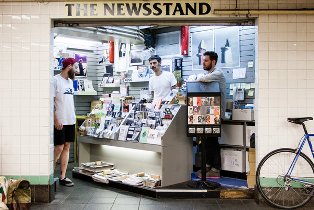 Newsstand staffers Eddie Goldblatt, Lele Saveri and Jamie Falkowski.
photo: Robert Wright/NYT
The Newsstand
, a pop-up shop located at the
Metropolitan Avenue subway station
in the Williamsburg section of Brooklyn until July 20, "has transformed an ordinary subway space into a store for independently published magazines, books, comics and zines. In a digitalized world, it is a small haven for printed media," the
New York Times
reported.
Offering "a kind of 'staff picks' for the tight space," the Newsstand carries selections from
McNally-Jackson Books
in SoHo,
Dashwood Books
on the Lower East Side of Manhattan, the
Desert Island bookstore
in Williamsburg and
Ohwow
in Greenwich Village, the
Times
wrote. The shop, which opened June 15, splits profits with the bookstores.
"I was trying to find a way of supporting that scene without stepping on their toes," said manager Lele Saveri of the stores he asked to participate.
Although the Metropolitan Transportation Authority usually leases spaces by the year, it was open to a short-term tenant for the Newsstand. "They had an interesting and innovative proposal for how to have an amenity in there for our customers and generate a little revenue for us," said Adam Lisberg, an authority spokesman.
Have you seen anything like this? If you live in Williamsburg, Brooklyn, or nearby, have you perchance seen this one? Would love to hear about it!