In two days we will experience the longest night of the year, the winter solstice—the moment that comes each year on December 21 and marks the turnaround from darkness to light. From midnight Wednesday on, until summer solstice in June, each day will give us a few more minutes of light than the previous day. From ancient times this has beeen a moment of celebration, promising not only more hours of light in our days, but the return of vitality, as well, in the coming months.
I thought of continuing Tarot's Fool's journey in today's post, but you know, we're at winter solstice time and we're all taking a break for the holidays. (Perhaps it's no accident that our holiday season corresponds so closely with the ancient awareness of nature's shift at this time). Many people are talking about the stresses of this time of year—the accounting we tend to take of ourselves about how well we've done in the past year, and the difficulties of dealing with expectations of joy associated with holiday celebrations. Not to mention the all-out actual joyful chaos that ensues in many households and is a total, not-to-be-missed distraction from everyday work. So, instead of following the Fool to his next big moment of enlightenment on his journey today, I thought I'd dial it back a bit and just share a less powerful Tarot card that has lots of meaning for us now.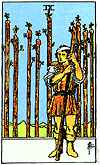 This card, the Nine of Wands, comes to mind when I think of what the winter solstice and the holidays bring up: the darkness before the dawn, the reckoning of wounds received and battles lost or won, and the almost secret anticipation of good things to come.
Can you see it all on his face?
Here he is, a wounded warrior holding tight to one wand and standing guard over eight others. In Tarot, the wands represent passion, and I get the feeling that this guy has been through a grist mill and has had to fight for what he wants and believes in for himself (hence the bandaged head and arm). But he's not going to let go of his passion, no siree.
He's worked and worked, climbing from one level to the next as he pursues his dreams and now, at this moment, he's questioning whether he'll ever get to the top.
Here's the secret that makes this moment sweet, though: what he seeks most, whether it's leadership or a successful career or anything else he's worked for, it's right there! He just can't see it! But he will if he does one simple thing. All he has to do in that moment of deep darkness before the dawn is shine a light (his own light) up. He might be tired and wary, but the second the light illuminates the wands and shows him the high road, he'll realize he has reserves of energy and strength. Completion of all he's worked for is right there, he just needs to go for it.
So to all you writer warriors who've toiled and laughed and cried and toiled some more, sleep the sleep of the warrior-in-waitng, deep and restorative. Sing, dance, play to your heart's content at this special time of year, and know that soon you will look up, and everything you've worked for will be there, waiting. You've earned the next step up. You can complete your vision in the new light.
~ Linda